Everyone's main aim, when decorating their personal space, is to turn all heads and strike attention to their own one-of-a-kind sense of personal style. It is well known that worldwide trend extends rapidly and it gets harder to keep up with the changes or the developments day by day – but no worries because we got it all sorted out for you! We prepared for you a list of lavishing interior designs accompanied by their creators along with a brief description of their work. You now know where to go when in doubt of how to decide which road to take in this wide world of home fashion.  
Website: https://www.marcelwanders.com/
Instagram: @marcelwanders
With more than 1,900 iconic projects, Dutch designer Marcel Wanders surely combines the unique aura of humanism with his avant-gardist character in style. Marcel Wanders works with superior brands such as Alessi, Baccarat, Bisazza, Christofle, Kosé Corporation, Flos, KLM, Hyatt Hotels Corporation, Louis Vuitton, Morgans Hotel Group, Puma, Swarovski. The Washington Post identified Marcel Wanders as ''the designer world's favourite star'' and BusinessWeek referred to him as ''Europe's hottest designer''.
Website: https://abigailahern.com/
Instagram: @abigailahern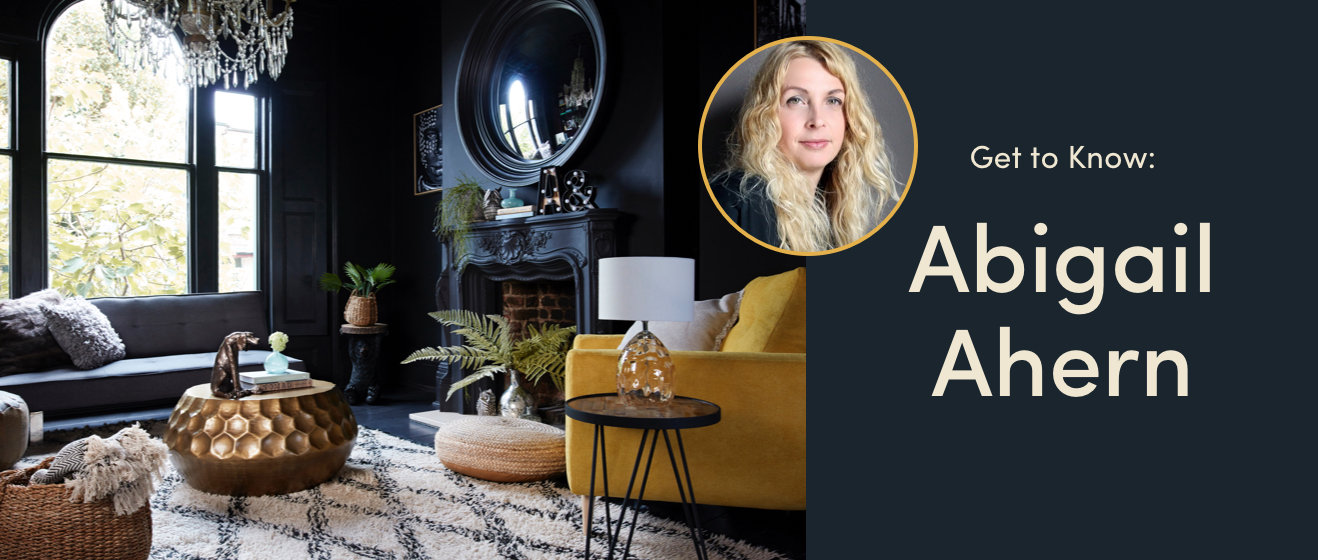 Known for her enchanting influence in interior design, Abigail Ahern has redefined natural outdoor themes and has given them an eccentric vibe. Including her famous Abigail Ahern faux flowers and plants, each collection she puts forward encompasses furniture, lighting, accessories, textiles, art, and sculpture. 
Website: https://www.kellywearstler.com/
Instagram: @kellywearstler
American designer and mom of two, Kelly Wearstler has taken her childhood passions and turned them into a namesake global lifestyle brand. Her empire embodies lighting, furniture, home accessories, jewelry, residential and commercial interiors. She has worked with remarkable celebrities such as Gwen Stefani and Gavin Rossdale as well as others. Kelly Wearstler has a colorful sense of style and admires working with vibrant details and bold textures. 
Website: https://yoo.com/
Founded by John Hitchcox and Philippe Starck in 1999, YOO has continuously enlarged its profile by collaborating with international developers since its establishment. Designing landmark residential and hotel projects throughout Asia, Australia, Europe, Africa, North and South America and the Middle East, this immense firm offers unique ideas and exquisitely renovates spaces for their client's desires. 
Website: https://albertopinto.com/
Instagram: @albertopintoagency
Fantastic decorator Alberto Pinto worked with a range of clientele from Middle Eastern petroleum billionaires and politicians to celebrities. Pinto's globally inflated design vision always brought a unique touch of elegance to his work. Pinto founded his design studio in Paris in 1971 and then became one of the most universal French designers throughout history. 
Website: https://deborahoppenheimer.com
Instagram: @doidesign
Hong Kong based designer, Deborah Oppenheimer specializes mainly in residential projects in Hong Kong and all around the world. She launched her interior design business in 1993 and has been touching the lives of many with her fine and pure style since then. Her love of clean lines and symmetry is broadly inherent in her work.
Website: https://www.deniot.com/
Parisian Jean Louis Deniot, is a true believer in the mingles of contemporary with historical. His affection for symmetry and neutral-yet-never-boring details is amassed in his designs. He established his own namesake firm and he has been creating his own furniture lines and a collection of antiques for sale. Deniot has worked in France along with many other places like Dubai, Himalayas, America and Russia. 
Arkansas native, high-end interior designer Brad Ford has more than 10 years of experience in the field and has been referred to as one of ''10 Designers to Watch'' in both New York Spaces Magazine and New York Magazine. His well known admiration for leather in his work has always been significantly present. He brings out luxurious passions while preserving the serenity and tranquility in the room. 
Website: https://www.petermarinoarchitect.com/
Instagram: @petermarinoarchitect
The principle of Pete Marino Architect PLLC, established in 1978, Peter Marino's work encompasses award-winning residential, retail, cultural and hospitality projects worldwide. Famous for his fascinating skill to blend his architectural designs with art, Marino has designed boutiques for first-class brands such as Louis Vuitton, Armani, Zegna, Calvin Klein, Fendi, Christian Dior. 
Website: http://hareklein.com.au/
Instagram: @hareklein
With the ideology that the root of good work starts with the exploration of local vernacular, finding valuable artisans, upholsterers, cabinetmakers, builders and suppliers to work with, Meryl Hare started her career right from scratch and built her way up to ultimate success. Hare is an admirer of expanding possibilities when face to face with a challenging space, left for her to design. Hare & Klein's lustrous surfaces and exquisite tones give its work an exclusive quality and regardless of the size of the space, each room touched, feels grandly spacious and alive with the correct amount of luxury. 
Website: https://erickuster.com/
Dutch interior designer Eric Kuster has proven himself in the world of ID and has worked both European and International throughout his career. His inimitable sense of style is certainly mouth-watering and is a great blend of contemporary and aesthetics. He runs his own brand under the name of 'Metropolitan Luxury'. 
Website: https://emilysummers.com/
Instagram: @emilysummersdesign
Leading award winning projects both in residential and commercial design, Emily Summers is a person of new trials who does not like to stick to a certain material or scene. Her soulful understanding of style is executed with utmost care and luxury. Kansas City native Summers, is certainly a big influence in Texan design and runs her firm 'Emily Summers Design Associates' admirably. 
Website: http://india-mahdavi.com/
Instagram: @indiamahdavi
Surely standing out with her unique outlook, India Mahdavi strikes with her understanding of color and texture combinations. She never holds back to emphasize the femininity in her work because sexy and chic are her signature themes. Born in Iran, raised by a Persian father and an Egyptian-English mother, her assorted lifestyle and culture mix is widely inherent in the spaces she designs.
Website: http://www.patriciaurquiola.com/
Instagram: @patricia_urquiola
Spanish designer Urquiola did not set off her journey as a designer since the beginning but rather started off as an architect at first. Her interest in material design arose in her later years and therefore led her to be one of the most acknowledged names in the design sector. She is mostly recognised with her playful, unique work while constantly reinventing and renewing to create new and fresh outlooks. In 2001 she established her own studio working on architecture, product design and installations. 
Website: http://amylaudesign.com/
Instagram: @amylaudesign
Arizona native Amy Lau possesses a rare expertise and this has not only made her a remarkable pioneer in the world of design, but has also allowed her to guide and lead in many settings as a prominent speaker and panelist around the world. Lau performed as the core speaker at the Phoenix Art Museum's annual fund-raising gala, which was the event that assembled the largest amount of attendance for an invitation-only event in the history of Museums in 2018. Her utmost care in detail has given her character a superb definition. Colliding natural beauty with delicate finesse, Amy Lau has been changing the lives of many clients through her firm, Amy Lau Design, since its establishment in 2001. 
Website: http://www.esteestanley.com/
Instagram: @esteestanley
As a well known fashion stylist and an interior designer, Estee Stanley has been working with many upscale clients including celebrities since the beginning of her commence. Her approach can be summarized with two words, effortless and exclusive. Her religious perspective on the idea that, as each client is different, so should his style be just as exceptional, is immensely evident in all her work. 
Website: https://studiolilykwong.com/
Instagram: @lily_kwong
When it comes to mesmerizing compositions of landscapes and culture, Studio Lily Kwong should be the name to pop up in our heads. This firm's main aim is to integrate people with nature. Lily Kwong has dedicated herself in opening the doors to a greener world through design and art and she has been doing a great job so far. San Francisco raised Lily Kwong, was on Forbes 30 under 30'Art & Style' list for 2018. 
Website: http://marymcdonald.com/
Instagram: @marymcdonaldinc
Mary McDonald is an award-winning, internationally published Los Angeles-based interior designer. She is one of the stars of Bravo TV's "Million Dollar Decorators" & "Property Envy" series and is consistently ranked as one of House Beautiful's Top 100 Designers. She is the author of "Interiors: The Allure of Style" from Rizzoli publishing and has been honored as one of the top 25 designers by Veranda Magazine. It is no doubt that her immaculate reputation arose from her fine and delicate understanding of trend and design. 
Website: https://www.rockwellgroup.com/
Instagram: @rockwellgroup
American designer David Rockwell is the establisher of Rockwell Group based in New York. The firm has won several awards, one of them being the reputable Tony Award in 2016 Best Scenic Design. Rockwell's work can be defined as luxurious and he designs to modernize and boost desires at all times and in all places. 
Website: https://kellyhoppeninteriors.com/
Instagram: @kellyhoppen
Being in the design industry for more than four decades, Kelly Hoppen is the last but most definitely not the least of the designers on our list. Her iconic career does not need much of an explanation as her work and achievements are recognized highly around the world. Her style is a brief sum up of East meets West with just the perfect amount of neutral lines. She sets the room for tranquility and mesmerizes all eyes with utter refinement. 
Latest posts by Devin Snell (see all)